Shave
Vertical cutter method is born from the pursuit of low noise. By changing the cutter, you can get beautiful skin on various materials, like carbide material, north/south sea timber, conifer & resin etc.. Knot can be processed with less chipping, not rough finish on interlocked grain. Suitable for thickness control of laminated wood, core material, MDF etc.. We can also suggest you super finishing planer and slicer, too.
Lengthwise slicer VT100
Lengthwise slicer VT100 <P tile surface material, resin slice>
■Feature
・Thick special stainless plate is used for the work table, so that the plane accuracy for venner slicing has been increased.
・Feeding speed is configurable between 20-60m/min by the inverter control.
・Special alloy is used for the nose bar for the wear reduction.
・Achieved efficient power transmission of feed driving by using rubber-covered roll.
・Special feeding belt can feed the work-piece reliably with less slips.
・Easy to replace, re-grinding and space saving by short blade length.
・Stable and smooth feeding by setting lower roll at the table.
・One-touch operation for table height adjustment.(displays actual work-piece height)
・Easy to adjust thickness for right & left.
・Starting device is slide type, and easy to adjust the origin in blade replacement by digital display.
・Work efficiency has been greatly improved by automation like, auto feed reciprocator and pressure auto positioning device.
・By using air cushion device to feeding, stable feeding is available if work-piece has any error.
■Use/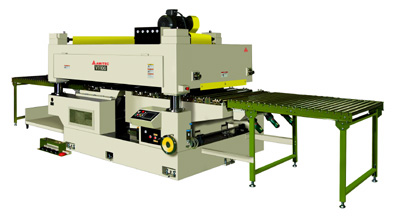 | ■Specification | VT100 |
| --- | --- |
| Max. workable size ( W x t) | 1000x100mm |
| Slice thickness | 0.3~0.7mm(depends on material) |
| Max. workable thickness | t2.0mm(depends on material) |
| Feeding speed | 60m/min(Max.) |
| Working table height | 900mm |
| Blade angle | 10° |
| Blade setting | |