Polish(Wood)
We have various kinds of machines from heavy duty grinding to precise polishing for below uses
SWS series
■Use/ Wood grain sanding for both side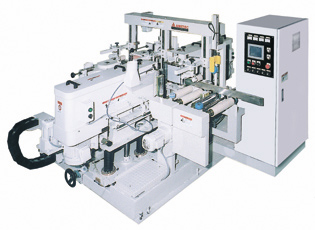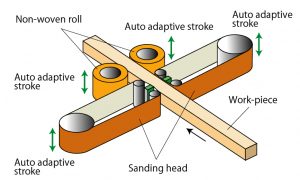 Install profiling function to the sanding head
Constant sanding is available even if the work-piece has curved, uneven thickness.
■Specification

SWS2515CF

Workable size
W(Min.~Max.)

15~250mm

t(Min.~Max.)

15~150mm

Min. length

800mm

Sanding speed

3~20m/sec

Feeding speed

5~25m/min

Sanding belt size (W x Inner length)

180x2510mm

Non-woven roll size(Dia. x W)

φ250x155mm

Working table height(including foundation plate)

850mm
Suitable for side sanding of laminated veneer plywood.
Uniform sanding is available by profiling function.
Sanding belt is used effectively by auto adaptive stroke.
■Specification

SWS12E

Workable size
W(Min.~Max.)

45~300mm

t(Max.)

120mm

Min. length

800mm

Sanding speed

3~20m/sec(60Hz)

Feeding speed

5~25m/min(60Hz)

Sanding belt size (W x Inner length)

150x2510mm

Working table height(including foundation plate)

850mm