Shave
Vertical cutter method is born from the pursuit of low noise. By changing the cutter, you can get beautiful skin on various materials, like carbide material, north/south sea timber, conifer & resin etc.. Knot can be processed with less chipping, not rough finish on interlocked grain. Suitable for thickness control of laminated wood, core material, MDF etc.. We can also suggest you super finishing planer and slicer, too.
LHG70A (Auto feeding type) LHG70A・ ( Full auto type)
LHG series born from the pursuit of strict processing accuracy
LHG70A (Auto feeding tpe) LHG70A・ ( Full auto type)
Computer controlled fully automatic grinding machine
Safety and high efficiency.
Achieve higher precision grinding with a full range of functions.
■Feature
・From rough to finish grinding are available automatically just by setting the blade.
・With process indication lamp to check grinding status at a glance. Easy to change each setting, like grinding , level ing time, grinding amout & escape amount etc..
・Adopt "Upper sanding" which can be grinded while checking the grinding status
・Adopt the turret device with magnet plate because blade edge is always fixed position("Core type").
・Also available for backing grinding.
・Adopt "LM guide" for feeding movement. Maintain high-precision grinding.
■Use/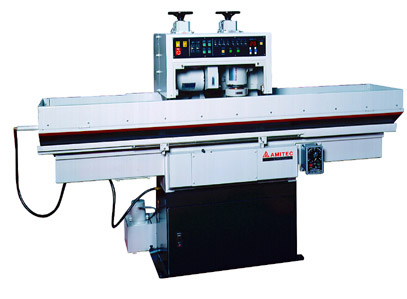 ■Specification

Max.workable size ( LxW H)
Angle range of sharpning
Turret type
Table right/left feeding speed
Grinding wheel shaft RPM
Round grinding wheel for rough grinding

(Dia. x hole dia. x t)

Cup grinding wheel for finish grinding

(Dia. x hole dia. x t)

Magnet surface plate turret